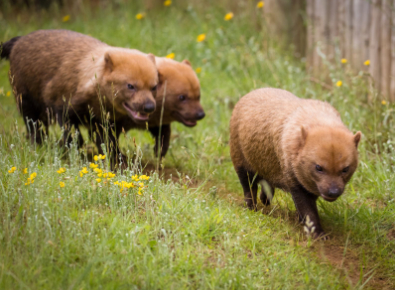 Image: Woburn Safari Park
Woburn Safari Park has announced that they have welcomed a new pack of bush dogs, with all six having settled in well.
The pack consists of two females and four males: Pongo, Padfoot, Dante, Scrappy Dappy Doo, Perdy and Shiloh and are all aged between seven to ten years old.
Bush Dogs are small, similar in shape to a hyena and are native to South America. In the wild, they live in groups of up to twelve and mostly feed on rodents. The new pack live at the park's Foot Safari at the Cachorro Range. They are naturally shy but can be very vocal so listen out for them when exploring the safari park.
The new enclosure replaces the Capybara Caves, as Natalia, the park's capybara now lives with the squirrel monkeys in Monkey Mayham. In the wild, the two species often share habitats and they have settled in nicely together.
Woburn Safari Park is open daily from 9.30 am and all visits must be booked in advance. Please visit their website for more information. Keep up with all the goings on at the park and the animals by following them on Instagram.
Related