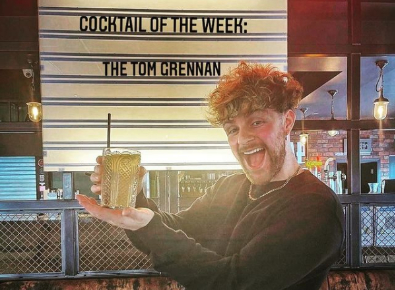 Image: FatCap Smokehouse on Instagram
Bedford's Tom Grennan, returned to his home town over the bank holiday weekend and visited the FatCap Smokehouse on Castle Lane where there is a cocktail named after him.
The Tom Grennan is a bourbon cocktail with lemon and soda and was added to the menu just before the release of Tom's latest album, Evering Road.
Speaking to local press, Emma Stevens, the owner of the FatCap Smokehouse, said: "Around the launch of his album, Tom was talking a lot about his hometown of Bedford and supporting local, so we got in touch with him to see if we could name a drink in his honour."
Over the bank holiday weekend, while visiting his family in Bedford, Tom and the rest of the Grennan clan had dinner on the restaurant's terrace and of course, had to sample the cocktail. According to Emma, he loved it!
Tom Grennan will be performing six intimate sold out shows at Bedford Esquires later this summer.
Related