This Christmas why not celebrate in true Bedfordshire style by making a festive Bedfordshire Clanger? The Bedfordshire Clanger is one of the county's delicacies, there are only a few places left where you can pick up this pasty like treat, which is savoury at one end and sweet at the other. If you don't fancy trekking all over the country trying to track one down, why not gather your cooking equipment and make yourself a festive one to enjoy this season?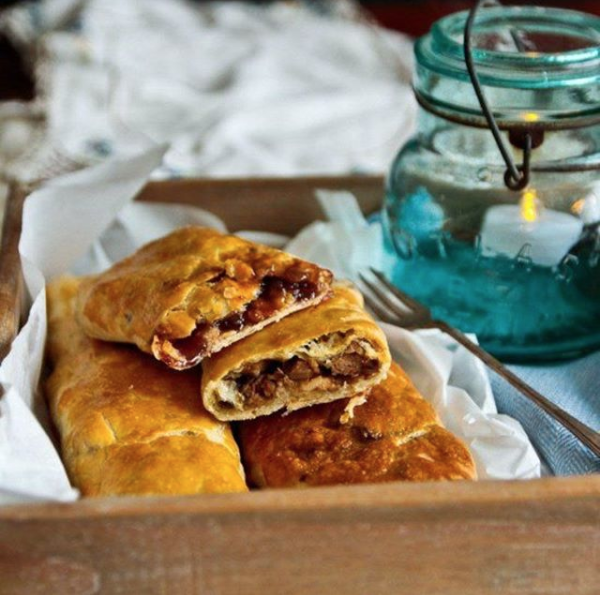 Image: GreatBritishFood on Instagram.
Ok, so the Bedfordshire Clanger was originally designed as an easy way for labourers to have a decent lunch with both a main and a dessert rolled in one. While they might have just been meat and jam at one point, now there are a whole host of things you can do with them with bakeries offering a variety of fillings and even vegan and vegetarian versions.
What you'll need to make a festive clanger:
For the pastry:
450g plain flour
1.5 teaspoon salt
150g suet – you can buy this at the supermarket if you head to the bakery section – there are vegetarian and meat versions, so pick which one best suits you!
75g butter (optional)
2 eggs (optional)
½ cup of water
For the filling:
If you're going for a vegetarian filling, why not try using sweet potato and chick peas rather than turkey? Otherwise, read on!
Oil or cooking spray
1 onion
A jar of cranberry sauce
450g roast turkey (or a vegetarian alternative)
370g of your favourite jam
Ok, now you've got your ingredients, let's get baking!
First off, work on the filling as this needs to be completely cool before it goes in the pastry case. Slice your onion and fry it before adding the cranberry sauce, after a few minutes, add in the roast turkey and season with salt and pepper. Once cooked through, leave this to the side to cool.
Now the filling is done, we can get the pastry started.
The suet packet will come with instructions, so you can either follow those or if you want the pastry to be buttery. Add the suet and butter to a food processor and pulse until you end up with tiny pieces, add your flour, salt and one egg then mix and slowly add the water until it comes together. Shape the dough into a ball and cover with cling film, this will then need to be refrigerated for up to an hour.
Take your dough out of the fridge and preheat your oven. Depending on how big you want your clangers, you should be able to get around 10 from this mixture, so line baking trays and split your dough into three smaller balls. Roll these out until they are thin and trim to form a rectangle. Divide these into the size of clanger you want and fill to the centre with the meat filling, then add your jam at the other end.
Roll up and seal the pastry and then if you like, use your remaining egg to create an egg wash. Place your clangers on a baking tray and bake at 225c for 15-20 minutes and then reduce the heat to 170c and bake for a further 15 minutes.
And voila! A festive Bedfordshire Clanger!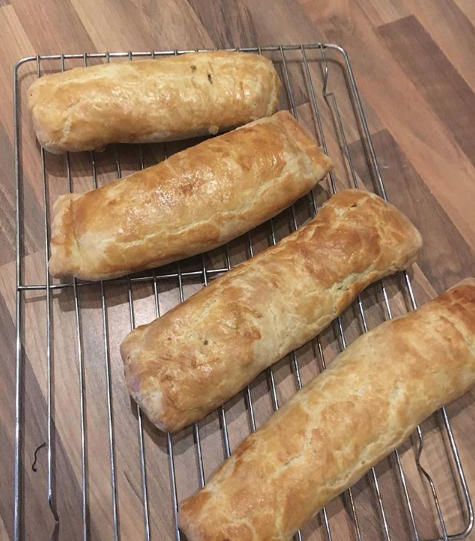 Image: RubyKelly19 on Instagram.
Did you try this recipe? We'd love to hear your thoughts, you can get in touch on Twitter, Facebook and Instagram.
Related